Lindsey Buckingham & Christine McVie
---
Date: July 5th, 7:00 pm - July 5th, 11:00pm
Venue: Budweiser Stage
Location: Toronto
More Info
---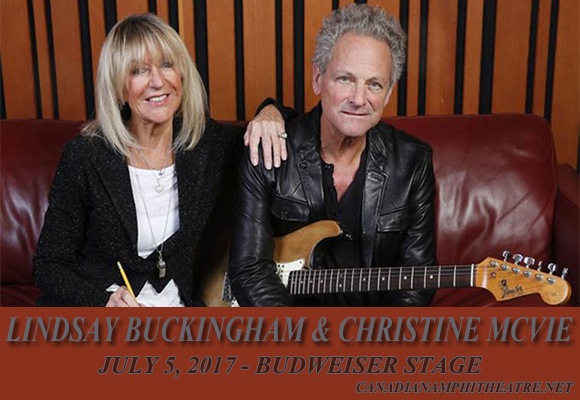 CLICK HERE TO BUY TICKETS NOW!
Fleetwood Mac fans!!! Lindsey Buckingham & Christine McVie will be heading to Budweiser Stage on Wednesday 5th July 2017 as a duo, promoting their hitly anticipated new album, originally set aside for Fleetwood MAc, adn featuring fellow members Mick Fleetwood and John McVie:
"We were exploring a creative process, and the identity of the project took on a life organically," Buckingham said of the record in a statement. "The body of work felt like it was meant to be a duet album. We acknowledged that to each other on many occasions, and said to ourselves, 'What took us so long?!'"
Members of world-famous rock band Fleetwood Mac, Lindsey Buckingham and Christine McVie have been performing together since 1974. With the band, their greatest success was the 1977 album Rumours, which launched the four US Top 10 singles "Go Your Own Way", "Dreams", "Don't Stop", and "You Make Loving Fun". Rumours won the Grammy Award for Album of the Year in 1978, having remained at No. 1 on the American albums chart for 31 weeks. The album has now sold over 40 million copies worldwide, and is rated as the eighth-highest-selling album of all time. As a solo artist, Lindsey Buckingham has released six studio albums and three albums. He was ranked at number 100 in Rolling Stone Magazine's 2011 list of "The 100 Greatest Guitarists of All Time". Christine McVie has also released albums as a solo artist, and was honored for her songwriting prowess with the British Academy's Ivor Novello Award for Lifetime Achievement in 2014. The album Lindsey Buckingham/Christine McVie will be release in June 2017.