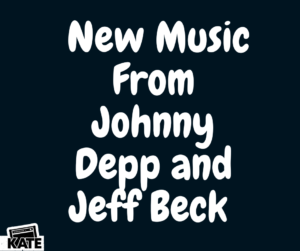 Johnny Depp And Jeff Beck On Stage Together
Check out the track they did together…
Jeff Beck and Johnny Depp met in 2016. The two had so much in common, their love of cars and guitars. They decided to combine their talents and release an album together.  "18" is a 13-track album, which drops on July 15. Beck explains the album title:
"When Johnny and I started playing together, it really ignited our youthful spirit and creativity. We would joke about how we felt 18 again so that just became the album title too."
The pair also plan to release a black vinyl version on September 30. The cover features an illustration of Beck and Depp as 18-year-olds that was drawn and designed by Beck's wife Sandra.
Leading up to the release of 18, Beck has launched a European tour, with Johnny Depp as a special guest.
Check out their new track "This is a Song for Miss Hedy Lamarr."