🎵Here's Proof David Crosby Left A Huge Mark On Music🎵
Yesterday, it was announced that David Crosby, 81, had passed away. A man whose antics were as legendary as his music and the world began to realize they lost a legend: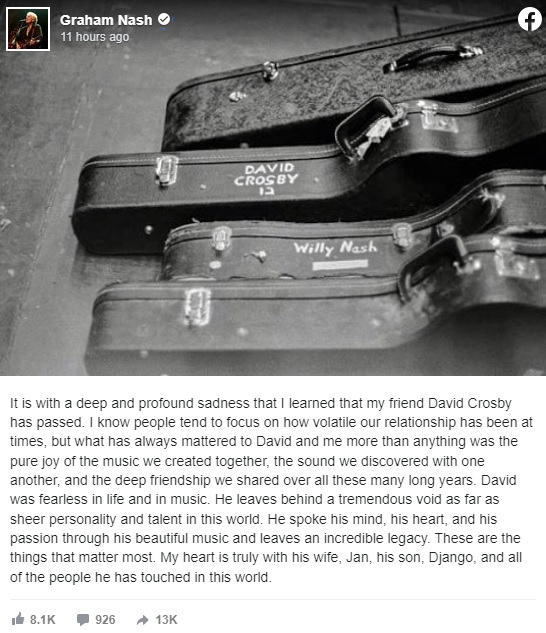 I don't know what to say other than I'm heartbroken to hear about David Crosby. David was an unbelievable talent – such a great singer and songwriter. And a wonderful person. I just am at a loss for words. Love & Mercy to David's family and friends. Love, Brian pic.twitter.com/Hjht7LeGiv

— Brian Wilson (@BrianWilsonLive) January 19, 2023
I am grieving the loss of my friend and Bailey's biological father, David. He gave me the gift of family. I will forever be grateful to him, Django, and Jan. His music and legacy will inspire many generations to come. A true treasure. pic.twitter.com/1e0vbvd2SN

— Melissa Etheridge (@metheridge) January 19, 2023
We sang together, we played together and had great times together.
I'll miss The Croz more than words can say.
Sail on. pic.twitter.com/Lc6pui2rCX

— David Gilmour (@davidgilmour) January 20, 2023
RIP David Crosby. I sang so many of his songs when BTO was a bar band. I thought he was a great songwriter and was amazed at how he survived his turbulent years and kept on making music. He will be missed by millions and his loved ones. #rip #davidcrosbyhttps://t.co/Ii7bBVWp3L

— Randy Bachman (@RandysVinylTap) January 20, 2023
Too right SS! RIP #davidcrosby https://t.co/zy6OWMAHYu

— Billy Idol (@BillyIdol) January 20, 2023
To the family of @thedavidcrosby – my condolences, thoughts & prayers go out to you. We lost an icon and legend today. It's been a very sobering few weeks with the loss of so many people. It puts a real emphasis on "live your life to the fullest."

— Bret Michaels (@bretmichaels) January 19, 2023
RIP to a music icon.
-Blair & Rubino 🤘